Setting your Rates for the First Time
The price you charge for renting your RV is completely in your control. To understand what you should charge, start by searching for comparable RVs and understanding your costs.
Look at RV type, location, and the amenities offered by owners with similar RVs to you. Once you have an idea of what rates you would like to set, here is a guide on how to add them to your listing.
Recommended Pricing
Recommended Pricing is a feature that will automatically update your weekday and weekend rates based on trending data in your area. When activated on your listing Recommended Pricing will keep your rates competitive on a regular basis without the need for manual intervention. You can turn off the automated recommendations at any time and adjust your nightly base rates manually.
Base Rates
Weekday rate (Sunday-Thursday) – This is your starting point for all your rates. Think of your weekday rate as your base rate. Any booking request will take your weekday rate and multiply it by the number of nights the renter requests to get to the final price. If you set a different weekend rate, weekday rates are applied for the nights between Sunday-Thursday.
Weekend rate (Friday and Saturday) – This is the rate charged for Friday and Saturday nights. Depending on your RV and your area, it may make sense to charge a premium on the weekend compared to the weekday rate.
Weekly discount – The weekly discount will be applied to booking requests that are 7 or more nights. It is common to provide discounts for longer trips. A weekly discount for bookings 7-29 days are calculated using the relevant rates (weekday or weekend) for those nights and apply the discount to the combined total.
Monthly discount – Monthly discounts are applied for requests for 30 or more nights. It is also common to provide discounts for longer trips. Monthly discounts are calculated using the weekday and weekend rates for the first 30 nights. You can input whatever percent off for longer stays and we'll calculate that in the quote using the weekday and weekend rates.
Minimum and maximum night stay – This is the minimum or the maximum number of nights for which you will accept a booking. Your RV will be shown in the search results for dates you are available, but a renter will not be able to book your RV if the booking is for fewer or more days than your specified number of nights.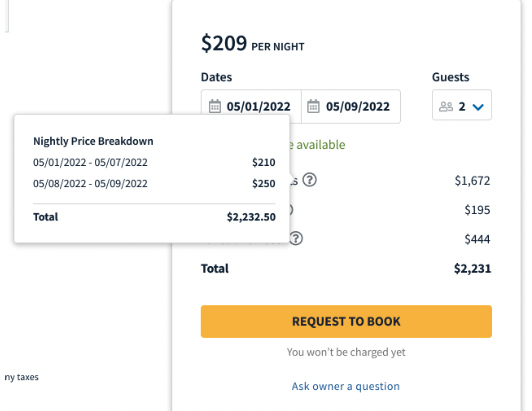 Security Deposit
A Security Deposit is a sum of money used to protect you from any potential damages to your RV during a rental. For renters, the security deposit amount is secured by placing a "hold" status on the renter's credit card for the amount of the security deposit. When that happens, the renter's credit card company creates a pending transaction, but never actually processes that payment to transfer the money.
It's important to decide the right dollar amount for the security deposit. Consider making your Security Deposit a safe dollar amount, but also attractive to renters so they want to book your RV.
Frequently Asked Questions about Security Deposits
Security Deposit Waiver
The Security Deposit Waiver gives renters the option to pay a small non-refundable fee of $69 during check out, instead of a Security Deposit. The waiver provides coverage up to $1,500 for eligible covered damages toward the insurance and protection deductible and gives renters a low cost option rather than a large hold on their credit card. Your Refundable Security Deposit will still be available for renters to choose, if they'd rather have the hold on their credit card instead of paying the small, upfront cost of the waiver.
More information about what the Security Deposit Waiver is and what it covers.
Additional Fees
The recommendation for figuring out your mileage, generator, and additional fees is the same as your base rates. Take a look at what other owners in your area are doing and remember the most important factor in pricing is to stay competitive. Always keep in account your cost as well.
Renters will see if you are going to be charging additional fees for things such as mileage and generator fees post-trip (if applicable) in the fees section of your listings. The Departure and Return forms track these usages for overage fees.
Mileage fee (Driveable RVs) – The mileage fee allows you to include a selected number of free miles and then charge for incremental miles beyond that set amount. You are able to select included miles from 0 to 250 or unlimited miles.
Generator Usage fee (RVs with Generators) – The Generator Usage fee allows you to include a selected number of free hours and then charge for incremental generator hours beyond the miles you include for free. You are able to select included miles from 0 to 12 hours or unlimited hours.
Additional fees – Additional fees can be added as required or optional. Be careful with adding too many additional fees. We suggest not adding more than 2-3 additional fees at most. Required fees will be displayed in the renter's quote but renters have to select any optional fees for them to be charged.
Optional fees – Popular optional fees include dumping, pet, and propane usage fees.
Required fees – The most popular required fee is a cleaning fee. You can add this as a separate fee or include it in your nightly rate.
Help Center Articles