Improvements to support your day-to-day 
The RVshare Team has been busier than ever getting new features and products into your hands, to make running your business on RVshare easier. Not only that, with a focus on enhancing the renter experience, there are several new features that will make finding and booking an RV easier.
Safe and secure RV renting with additional peace of mind.
What you can expect:
With the launch of the Insurance and Protection product comes additional renter verification and vetting, so you can rent your RV knowing it is in good hands. Whether you have your own commercial coverage or rely on the RVshare Insurance and Protection, your renters will be vetted by our partner, DigiSure. 
Some of the things we are verifying on the renter for the safety of you and your RV:
Criminal background checks
Global watch list
Legitimate drivers license
At least 25 years or older
Good driving history
Also, the Renter Checklist went live to help renters understand what next steps they need to complete for their upcoming trip, including finalizing their insurance and protection on your RV. 
Dashboard Improvements
With help from your feedback, new features were launched to make it easier for you to manage your business.
What you can do now:
Access the Calendar button from main navigation so it's less clicks and simpler for you to find. And "My calendar is up to date" toggle to provide input that your RV availability is current. 
Redesigned the Rates feature with more flexibility and opportunity to make more money.
And merchandising your discounts and weekday/weekend dates to the renter.
Photo enhancements in the Dashboard, so you can now include a caption for each image, helping the renter decide if your RV is right for them. 
Owner Community
Many of you are new to renting RVs and seek a sense of community and opportunity to learn from others. We're so excited you're here and want to offer forums to learn from others.
How you can participate:
Virtual Owner Meetups are an opportunity to ask a panel of RV owners questions on renter experience, managing your day to day, and more. It's a great opportunity to hear from active RVshare owners on how they have seen success. Join us in our next Virtual Owner Meetup on June 29, 2022. 
Also, not new but if you haven't already, join our Owner Group on Facebook. 
Improved Renter Experience
A focus on increasing your bookings means always looking at areas to make finding RVs and planning a trip easier for a renter.
What renters can do now:
In your Dashboard, you can now enter your "Owner Top 5 Recommendations" on listing details. Help renters know where you recommend taking your RV, since you know it best.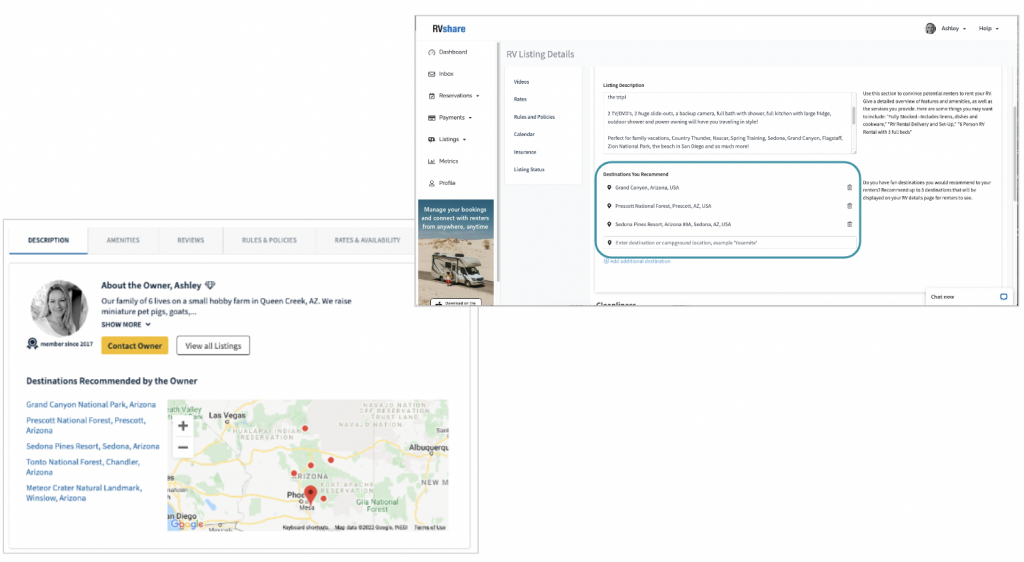 Campsite Essentials on the listing details page hopes to provide renters with the details they need on your RV. Things like electrical amperage, water tank size, etc. are elements to an RV trip that renters will need to know before booking. 
With updates to Mileage Calculator under the Rates and Availability section of the Listing Details Page, renters can get a sense of what additional costs they may see after their trip, depending on the parameters you've set.
RV Tips on the listing details aims to provide a quick snapshot of things a renter should consider and prepare for while on the RV trip. 
RVshare App Updates 
The App also had several features and enhancements launches: 
Auto-capitalizing the first word in the sentence
Expanding the messaging box as you type for easier messaging
Renters can now tap links in messaging to open
Pinch-to-zoom in on images, swipe to close images and improved password and input fields.
Added the ability for owners to accept or decline booking requests directly from the messaging screen to make it easier to respond quickly.
Added captions as an option to images
Download the App if you haven't already!
More exciting things are in the works so stay tuned for future updates from the RVshare Team! If you have feedback, please submit it here.